Scoop, the iconic New York City boutique for men and women, opened up a fresh new concept store in Chicago's Gold Coast community last June. Since then, the second Chicago branch of the NYC brand has has provided locals with a highly edited and exclusive selection of fashion's current scoops.
Scoop NYC Gold Coast (1009 North Rush St) hosted its one-year anniversary party on the evening of Thursday, June 14, in partnership with StyleChicago.com. DJ Lani Love of Sugar Rock Catwalk provided the soundtrack to the party which was hosted by stylist Eric Himel and menswear designer Roderick Tung. The fashion, cocktails and food made the perfect formula for a fabulous night of style that lit up Rush Street.
I spent most of my time mingling on the second floor, where Roderick Tung showcased his new collection of shirts.
As always, a few things in the store caught my eye and I knew I couldn't keep them to myself.
Check out the two items from Scoop NYC that I think every man must have below.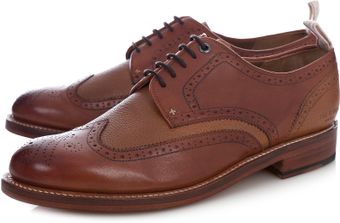 Rag & Bone
It's no secret that I'm obsessed with wing tipped shoes — I think they're the perfect combination of classic style and modern luxury. Men fail to realize that shoes make every outfit because for many people, shoes are the first thing they notice. Rag & Bone's Bedford Brogues are dapper, and the perfect color to get any guy out of his box.
This scarf is perfect for the summer and 4th of July BBQs that I'm sure we will all be attending. I'm not sure whether I'm feeling patriotic or it's my love for classic paisley print that is drawing me to the Nation Pride Scarf. Either way I'm in love with it.  The scarf blends together an American flag with a classic, paisley print hankerchief style that makes for a unique take on all the "Proud to be an American" apparel that we're sure to see this summer. If that doesn't convince you, the scarf was made in the U.S.A. — what better way to wear your American pride?
For more info about Scoop NYC, visit their website at http://www.scoopnyc.com.
Related posts: